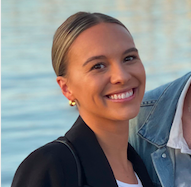 Isabella Chayet joined Main Management in March of 2023 as a marketing coordinator, supporting Shelby Murphy in executing the firm's marketing strategy.

Before joining Main Management, she worked in account management at LinkedIn, where she partnered with mid-sized nonprofits on their talent strategies. She grew up in Fairfax, California and received a Bachelor of Arts in Sociology from Cal Poly SLO. Outside of work, she is an acting student at a scene study studio in San Francisco. When she's not at the studio, you can find her enjoying a cappuccino at a local coffee shop in North Beach or walking around Telegraph Hill with her rescue dog Chai.
For a weekly email from Main Management about trends
shaping markets, industries and the global economy.