International Equities:
Prior to 2023, international equities have underperformed the S&P 500, driven by poor relative growth and a strengthening U.S. Dollar, for over a decade. However, for the first time in 15 years, international markets are currently experiencing three conditions that have historically led to strong outperformance: a weakening U.S. Dollar over the past year, low valuations, and strong relative growth estimates (per FactSet Data).
U.S. Dollar:
After peaking in September 2022, the U.S. Dollar has weakened significantly. We anticipate the dollar to continue depreciating if the Federal Reserve holds rates steady while central banks elsewhere continue their rate hike cycles. The direction of the U.S. Dollar appears to be one of the most important factors in determining whether International Equities will outperform U.S. equities, as both previous periods of significant outperformance were characterized by a consistently depreciating U.S. Dollar.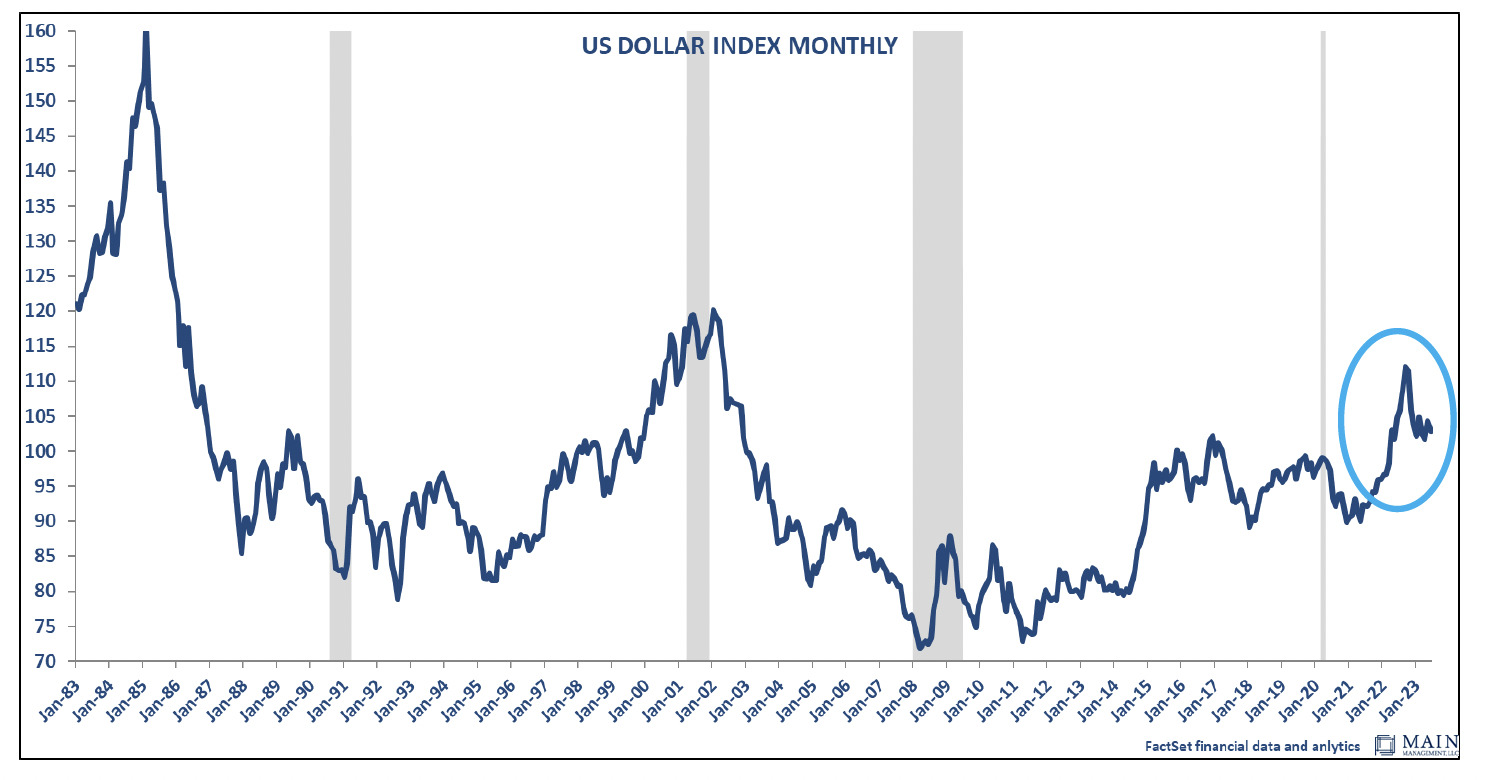 The two previous periods of significant decline in the U.S. Dollar (1984-88 and 2002-07) are also instances when International Equities outperformed the S&P 500
Valuations:
Valuations also appear to be at a long-term low on an absolute basis as well as relative to the S&P 500 (per FactSet Data), which is currently trading at a NTM P/E of 19.4x. Some countries with low valuations include Mexico (FLMX) at 12.1x NTM P/E with earnings estimated to grow at 10% over the next year, Japan (FLJP) at 14.7x with earnings projected at 8%, and South Korea (FLKR) at 11.8x with earnings projected at 27%. Additionally, the global ex-U.S. dividend yield is roughly 1.6% points greater than the S&P 500, meaning you may be essentially "paid to wait" for international equities to outperform.

Growth:
Global growth estimates are strong relative to the US and are higher than the historical average premium to the S&P 500.

Prior Periods:
Here is a look at the prior periods of major international equity outperformance over the S&P 500 and the current performance since October 2022.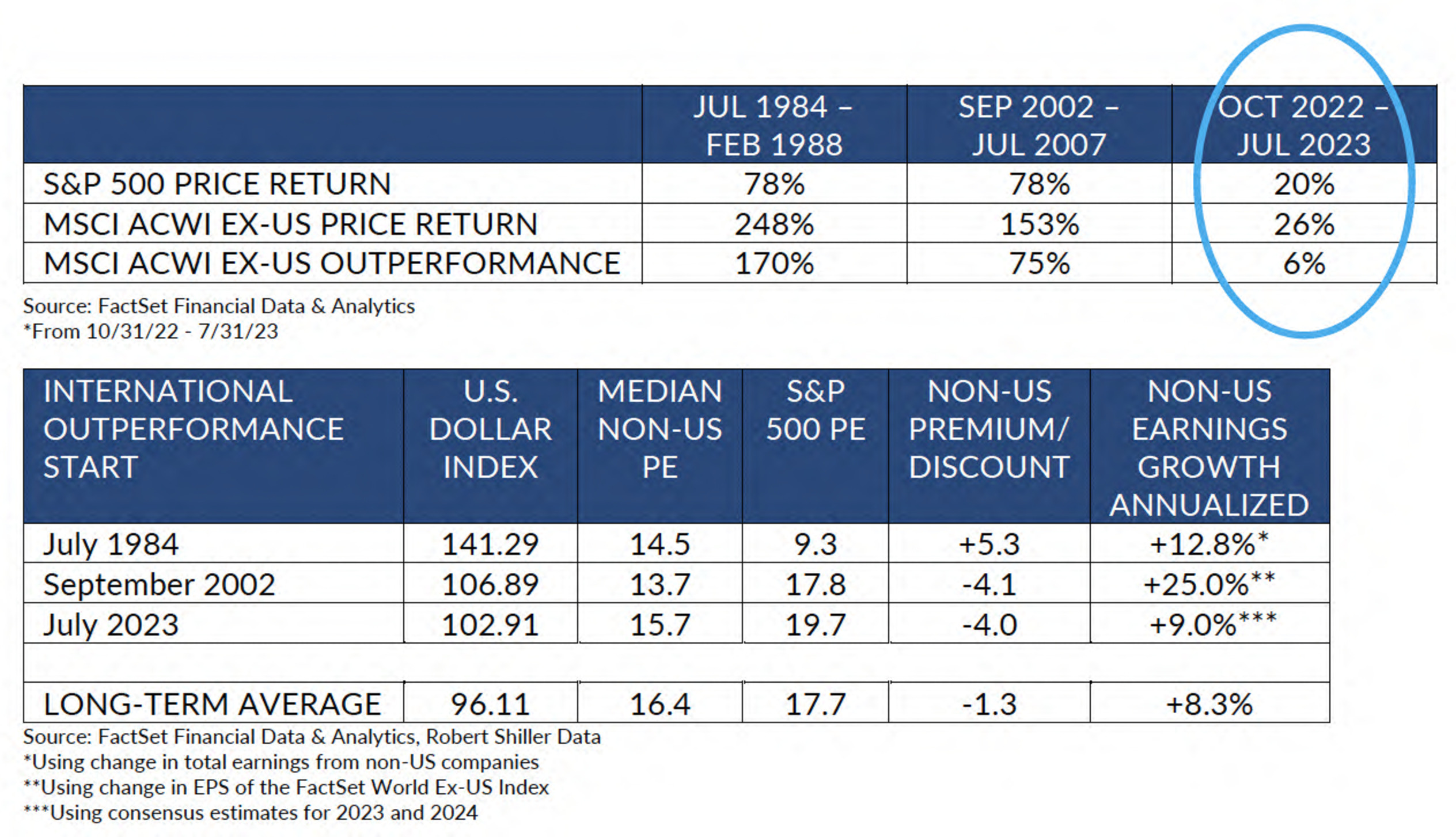 Both the 1984-1988 and 2002-2007 periods saw a peaking U.S. Dollar, low relative and absolute international valuations, and above-average forward earnings growth.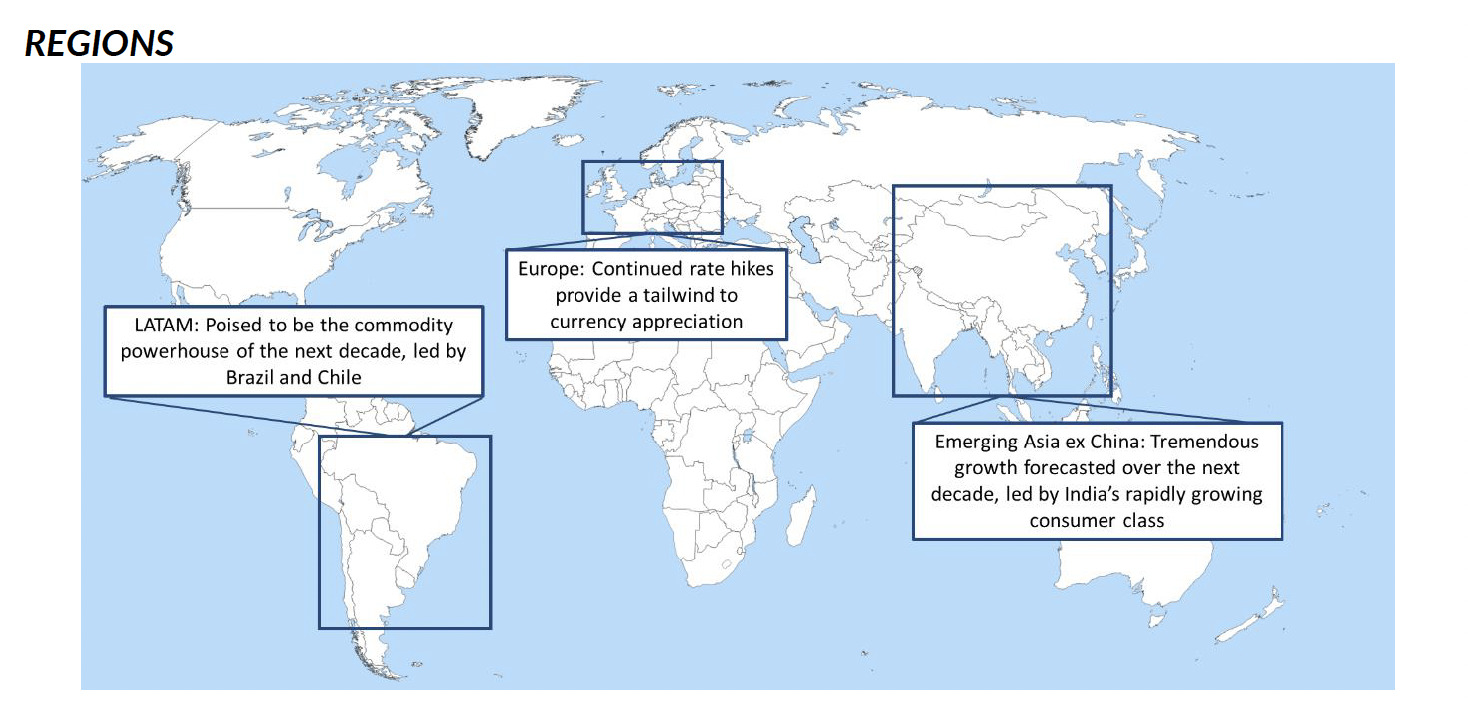 Main Management, LLC ("Main Management", or the "Firm") is an investment adviser registered under the Investment Advisers Act of 1940, as amended. The Firm was founded in 2002 and provides investment management services primarily to high net worth, family groups, foundations/endowments, and serves as a sub-adviser to third-party investment advisers & broker-dealers. The information contained herein was prepared using sources that the Firm believes are reliable, but the Firm does not guarantee its accuracy. The information reflects subjective judgments, assumptions and the Firm's opinion on the date made and may change without notice. The Firm is not obligated to update this information. Nothing herein should be construed as investment advice or a recommendation to purchase or sell securities. The information is not intended as an offer to provide advisory services in any state or jurisdiction where such offer would not be permitted under applicable registration requirements. All equity investing entails risk of loss. In preparing this material, Main Management has not taken into account the investment objectives, financial situation or particular needs of any individual investor. Many securities transactions are risky and are not suitable for all investors. All securities investments carry risk, including a risk of loss of principal.